Remember:
The cost of your course includes the loan of a helmet, jacket, gloves and waterproofs if needed, and also the use of one of our bikes.
However when it comes to buying your own, these links below are your best place to start. And if things go wrong check out our recommendations for putting it right.  We have personal experience of using these companies ourselves.
Buying Clothing
At 1st Class Rider Training we sell our own range of CE Approved Bike Jackets, and gloves. Jackets £85. Gloves £25. Or for a discount buy a jacket and gloves for just £100.  Contact Andy for details.  1st Class Clothing for 1st Class Riders.
Dropped your Bike?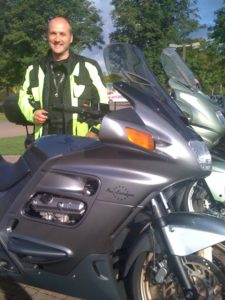 Then the number to call is ;
07709136671
.  Ask for Paul.  Paul Runs
'Paintless Dent Removal'
and is a wizard with a spray can!
He can carry out dent and chip removal, repair cracked and scratched fairings etc.  Perfect paint matches from a massive library of colours or you can have the whole thing re-sprayed.  Just have a look at the job he did on his own Pan European.
.
.
.
.
.
.
.
Clothing &  Accessories
Bike Gear.
An excellent choice for all your bike gear clothing and accessories is
BikeGear
at Bridgend.  All our students and members of the 1st Class Rider Ride Out Club get a massive 10% of all purchases in store. Always with a warm welcome, a cup of coffee and time to assist you in spending your money wisely.  A wide choice, well worth the short run to Bridgend to grab a bargain.Pick up your discount voucher from us at 1st Class Rider Training.
Bikegear  can be found at Trewsfield, Tondu Road, Bridgend.  CF31 4LH.
01656 665366.