Our principal instructor:
Andy Smith
…a really nice bloke!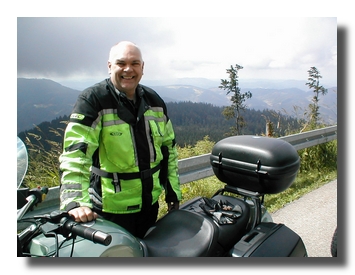 Andy is the holder of the coveted Police Class 1 motorcycle grade, RoSPA Examiner and Diploma Holder, IAM Examiner, Certified Instructor for the DSA and the holder of a BTEC in Advanced Motorcycle Instruction.
Andy has extensive experience in motorcycle training at all levels. He became a full time Police patrol motorcyclist in 1988 and was responsible for introducing the acclaimed Bikesafe scheme to South Wales and still continues to support the scheme which now runs throughout the country.
He has built up a team of highly qualified and dedicated instructors.
Jeff Johnson
A serving, Class 1 Graded Traffic Cop with loads of experience. Currently a full time Police Motorcyclist and heavily involved in the South Wales Bikesafe Cymru Scheme and with a wealth of 'road safety' knowledge. He is an Examiner for the RoSPA Advanced Motorcycle Test and can train at all levels, from complete novice up to an accredited advanced level.  His relaxed manner and systematic approach means he is able to get the best from his students. Jeff is also on the DSA Register for the Enhanced Rider Scheme.
Stuart Dix.
Stuart is currently still a serving Class 1 Graded Traffic Cop.  A member of the VIP Escort Team and is a highly skilled rider. Like his colleague, Jeff (above) Stuart is dual trained and is also an Advanced Car Driver. A keen motorcyclist in his off duty hours he has a wealth of experience which he is well able to use to get the best from his students.  His infectious sense of humour will soon have you relaxing into your training.
Anthony Cribb
Anthony has quickly established himself as one of our enthusiastic team.  Anthony holds a RoSPA  Gold Riding Grade, which is deemed to be the Highest 'Civilian' Grade, and is also an Advanced Tutor for the RoSPA Advanced Motorcycle Scheme.  He has an extensive background in the Transport Industry and has worked closely with us at 1st Class for a number of years on different schemes and projects.  (There's not much out there that Anthony can't drive!)  He has an infectious enthusiasm for motorcycling and keeps safety uppermost in his outlook.  Loyal and trustworthy he is a valuable member of the team.
Paul Jones
Paul is a real 1st Class success story.  Completing his cbt and then Direct Access training with us a few years ago, Paul then went on to qualify as a DSA Instructor.  Also gaining the RoSPA Diploma in Advanced Motorcycle Training, an extremely high qualification indeed.  Paul has worked as an Instructor at BMW Rider Training.
Paul's former Army service and his associated teaching qualifications (among them, he is an Instructor in the use of Armoured Fighting Vehicles!!), mean he is well able to coach his students to be riding to a high standard.  He has a calm and relaxed approach and we welcome him 'back' here at 1st Class Rider Training.
Glyn Canter
Glyn is also a long serving, and highly experience Police Traffic Officer(Recently retired – 2017). Also Dual Trained, Grade 1 on Cars and Bikes.  Primarily a Patrol Motorcyclist, with a wealth of Road Safety knowledge and experience. He has a calm and reassuring manner and a high degree of expertise. His methodical manner means that no detail is left out and he will work with you through your training. He is a valued member of our team for cbt training and at the Advanced level.
Glyn quickly established himself as a valued member of our team, and repeatedly receives the highest praise from his students for his patience and his calm approach. We are pleased to have him as one of our dedicated team members.
At 1st Class Rider Training, we pride ourselves on having 1st Class Instructors.