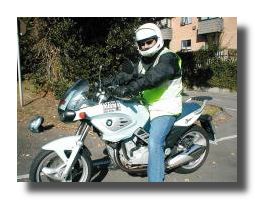 CBT = Certificate of Basic Training
The CBT certificate validates your Provisional Licence Entitlement to ride motorcycles up to 125cc.You must still display 'L' plates, must not carry passengers and cannot use the Motorway at this stage but it forms the basis of good riding to build upon for the future.
This is your first step towards becoming a road user who is able to get the best from travel on today's modern and busy roads.

Element A Introduction
Eyesight requirements; A trainee must be able to read a number plate with figures of 79.4mm high and at a distance of 20.5metres.
Licence requirements; Be the holder of a provisional licence for the appropriate category for a motorcycle or a moped.
An introduction to the background of the CBT will be given.
Element B Practical on site training
This section deals with familiarising the rider with the vehicle controls and will show how to carry out basic vehicle maintenance checks.
The trainee will be shown how to take the machine on and off the stand.
Element C Practical on Site Riding
This section deals with the set manoeuvres:
This covers pulling away and stopping
Riding in a straight line under full control
Bringing the machine to a controlled stop
Riding the machine in a complete figure of 8 within a set distance
Turning the machine in the road by using a U-turn
Stopping the machine in an emergency and under full control
Making controlled stops by using both brakes
Changing gear correctly
Carrying out a series of left and right turns under full control
Element D Pre-ride Road Briefing
This section involves a pre ride Road Briefing and aims to prepare the rider in how best to deal with the potential hazards, road conditions and traffic found out on the road.
Element E Practical on Road Training
This section is the practical on road riding. This must be for a minimum of two hours during which time the trainee will encounter a variety of road and traffic situations and hazards. Such as; Roundabouts, pedestrian crossings, junctions, gradients etc. At the end of this session a CBT certificate will be issued if the trainee meets the required standard and the instructor feels that they may ride safely unsupervised on a bike up to a 125cc.
Your CBT certificate is valid for 2 years.