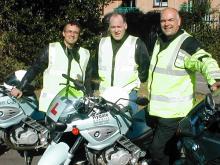 Training and the Practical Test
After completing the CBT and motorcycle theory test you are now able to proceed with more training and take your practical test.
There is a tiered test system depending on your age and the size of the bike you wish to ride.
If you are under 24 certain restrictions apply.
After completing your CBT we will mutually agree a training course to best suit your ability. I understand that it is easy for me to spend your money for you but I can assure you that an honest appraisal will be made in order to make the training course as cost effective for you as possible, within the published pricing scale.
Once you pass your test on one of our big bikes you will have a full motorcycle licence allowing you to ride a bike of any size without restriction. (Varying restrictions apply if you are under 19, and under 24)
Please note that major changes to the motorcycle licence groups, came into effect with the implementation of the 3rd EU Directive on Driving Licences.  A bit more complicated and more expensive! (Implemented January 2013)
Also, the old style (one event) practical motorcycle test has been split into two separate modules and this was coupled with a reduction in the number of Motorcycle Test Centres across the UK.
New licence Categories for bikes also came into force, and motorcycle licence groups are now age related.
Up to 19 you can take your tests on a 125cc
Over 19 and up to 24 you can take your tests on our 500cc bikes to gain a Full Licence for the newly introduced A2 Medium Bike Category.
Over 24 you can train on our 600cc bikes under the direct access scheme and obtain a full bike licence with no restrictions.