Course Prices & Booking Conditions
The prices shown for CBT & Direct Access Course include the use of the bike, fuel and insurance for the time you are training. Also we can loan you a helmet, jacket, gloves and waterproofs if required.  We do not supply trousers or boots and candidates are strongly recommended to wear suitable and appropriate clothing and footwear to afford themselves adequate protection.   Minimum requirements would be  thick denim jeans or similar and sturdy footwear with a degree of ankle support.
CBT (Certificate of Basic Training)
Normally completed in one day: £135
If further training is required on a 2nd day this is given free of charge. (This does not apply to any training course booked using a discount voucher and the daily charge will be applicable).
Training required on a 3rd or successive days will incur a further charges. Please note that where a client 'Self Terminates' the training session then the offer of the second 'free' day shall not apply and they shall forfeit all training charges for the terminated session.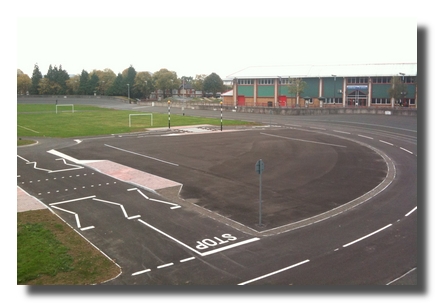 Direct Access Courses
Training Course Daily Rate: £160  This is a full training day from 8.00am – 3.00pm each day. (Course times may be subject to change during the Summer Months i.e; A 7am or 9am start time may be arranged.  If in doubt, please check before attending).
(Now that the Practical Motorcycle Test has been split into two seperate modules we anticipate that the minimum duration of any Direct Access Course will be 4 Days, but could be more depending on Student ability).
Additional Costs Payable to the DSA:
Theory Test: £30
Practical Bike Tests:
Part 1  –   £15.50  (This is the off road exercises.  Mostly Slow Control but consisting of the 2 speed recorded elements. In total Approx 10 minutes in duration).
Part 2  –  £75    (This is the Practical on road ride.   Approx 40-45 minutes)
(Test Prices Correct From 1st of October 2009 )
Please note; If you are shopping around for prices, our training days run from 8.00am – 3.00pm each day (see above for alternative start times).  Other companies charge the same as us but only offer a 5 hour training day.  This amounts to a big difference when spread over a couple of days!  Often the day extends beyond 3pm at no extra charge.
Advanced Motorcycling Courses
NEW;  3 Countries Advanced Motorcycle Course.
This is an intensive 6 Day Course which covers approx 2000 miles across Wales, England & Scotland.
It includes 6 Days training with five days in Scotland, Spa Hotel Bed, Breakfast & 2 Course Carvery Evening Meal on the days away.
For full details visit our Advanced Training Page.  We believe that this is the closest thing to a Police training course on the market at the moment.  This course has drawn much acclaim from our students.
Check out the details and book yourself on the next course now.
All this, plus your RoSPA & IAM  Advanced Tests and an assessment for the Enhanced Rider Scheme for just £1450.
There are no hidden charges.
What you see is what you pay!
Cancellation Policy
This is not 'small print'….it is too important for that. Please Read as you will asked to accept this at the time of booking.
Bookings can be accepted up to 24 hours prior to to a scheduled course, subject to places being available. In the event of any subsequent cancellation of any booking by a customer, or non arrival of a designated client on the day of the course, then the client shall pay 1st Class Rider Training-Cardiff a cancellation fee.
The following fees will apply:
3 weeks before arrival 25% of anticipated revenue.
2 weeks before arrival 50% of anticipated revenue.
1 week or less before arrival 100% of anticipated revenue.
Where bookings are made for Part Days on an Hourly Rate, this Hourly Rate will not exceed the normal Daily Rate Charge.  However where a Part Day booking for an Hourly Rate is cancelled within the above time scale then the Full Daily Rate will be charged.
Any DSA Test Fees cancelled within the DSA Cancellation Period will also be forfeit.
This shall apply to bookings made via a written booking form, email, or verbally agreed by phone or in person. Bookings are taken on the understanding, and assumption that you have read and agreed these Terms & Conditions.
Clients must produce their driving licence at the commencement of any training course. Failure to do so will mean that you cannot participate in any training sessions. If clients attend without their driving licence and cannot train they will still be charged at the appropriate daily rate and the training fee must be paid in full.
Documentation.
If you hold a Photo Card Driving Licence with a Paper Counterpart, you must be in possession of both parts. From the 8th of June the DVSA will no longer be issuing Paper Counterpart Licences so this won't be valid after this date.  Please check that your Photo Card Licence bears all your provisional entitlements on the rear, otherwise you may nee to provide your National Insurance Number for an online check to be as to the validity of your Driving Licence.
Please note that the photograph on your photo card only has a validity of 10 years. You can check the expiry date at Item 4b on your photo card, after which time it must be renewed. It is your responsibility to ensure that the licence that you present to the DSA at the time of your practical test is valid or your test will not be conducted and you will forfeit all fees.
Breath Test for Alcohol.
As a result of recent research regarding 'Morning After Drink Driving' 1st Class Rider has obtained a Driving Instructor Association approved Breath Testing Device. We reserve the right to require clients who we suspect may still be under the influence of alcohol to undergo a screening breath test at the start of any training day.
A 'postive' result will immediatly terminate and cancel the training session, and will invoke the cancellation policy which will apply.
If any client refuses or declines a breath test in such a circumstance, we reserve the right to cancel their course, without refund in accordance with our cancelation policy.
Please note we will only require clients to provide a specimen of breath for a breath test if we suspect the presence of alcohol in their breath.
If you have a training course booked the day after you intend consuming alcohol, please drink sensibly and in moderation.
This is to safeguard you, other students who may be training with you and our instructors.
Aggressive Attitude, Verbal or Physical Abuse. Our Staff and Instructors have the right to work in an environment free from Aggressive and Abusive behaviour. In the event that any of our students develop an aggressive attitude and become verbally or physically abusive towards our staff, the training session will be terminated immediately, without refund. The student will not be allowed to ride any further.  The bike keys will be removed from the student and the training bike will be locked in a safe position if out on road.   If, due to such behaviour recovery of our training motorcycle is necessary then  the student will pay all recovery costs for that vehicle in order to return it back to our training base.  This sum will be pursued through the Civil Court if need be.  Any incidence of physical assault will be reported to the Police.
Privacy Policy. We do not share any details of our students with any third party other than the DSA (Driving Standards Agency), and the DVLA (Driver & Vehicle Licensing Authority)  and then this is only for the purposes of 'naming' your tests with the DSA and for forwarding copies of completed DL196 forms (Compulsory Basic Training).  These are legal requirements for us and you training and testing cannot progress without us sharing this essential information.
Financial Details. For clients wishing to pay with a credit or debit card, this can be done securely via our arrangement with Paypal and details can be found on our 'online bookings' page or at the PayPal website.
Telephone Bookings. 1st Class Rider Training now operate a telephone/credit/debit card booking service via a Virtual Terminal with Paypal.  We DO NOT share any client card details with any other third party and we do not store your card or financial details on any retrieval system.
Provisional Bookings. Please note that payment is required at the time of booking. Bookings taken on the telephone will be treated as 'Provisional Bookings' only until payment is received.  Provisional Bookings can only be held for 24 hours pending receipt of payment.
Andy Smith