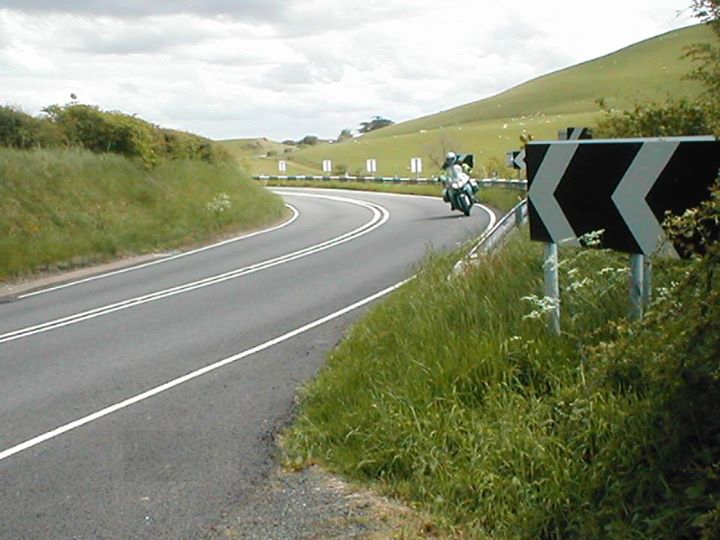 How you can Avoid the 5 most Common Motorcycle Accidents
At 1st Class Rider Training-Cardiff we believe that riding a bike requires both skill and judgement.
We strongly advise riders to take further training to enhance their skills and we can tailor courses to suit the individual rider.
But here I wish to give advice to any rider, and provide information on the 5 most common motorcycle crashes, and advice on how to avoid them.
Statistics show that the 5 most common causes of motorcyclists crashing are;
Failure to negotiate a left hand bend on a country road
Failure to negotiate a right hand bend on a country road
Collisions at junctions.
Failure to correctly carry out an overtaking manoeuvre
Loss of control.
In the UK the cause of many motorcycle casualties is a failure to get around a left hand bend.
The majority of motorcycle collisions causing death or serious injury are 'single vehicle collisions' That is, it is the rider who makes the mistake and not 'the blind car diver 'who bikers so readily like to blame.
So here is a question for you. I will give the answer at the end of the article, but just to get you thinking….
What is the most dangerous weather condition for a motorcyclist? What do you think. I'll give the answer below.
Bends on Country Roads.
Many training schools restrict their training to 'rehearsing the test route' and much of their training takes place in Towns & Cities and not on Country roads.
Country roads are different and hide extra hazards so we need to use our skill, knowledge and ability in different ways.
Some bends on country roads are long, sweeping and open up when you enter them. Others appear to tighten up dramatically. Have you ever gone into a bend, got half way around and then been surprised to see it tighten up causing you to brake.
Well here is a bit of news….bends don't tighten up. They are what they are. They are just bends., and they can't move. If we go in to it too fast, that's our fault not the bend.
For many riders the first half of the bend is easy….It's the second half of the bend that tests our skill!
Anyone can get half way around a bend.
So if you do go in too fast you can find yourself with a major problem. We need to use the clues form the surrounding s and road surface, road markings etc.
You may gain valuable information from
The line of trees leading into and around the bend.
Telegraph Poles or more use Lamp posts that you may be able to see over hedgerows, telling you the curvature of the bend.
White line road markings. A useful rule here is, The More Paint, The More Danger.
Make use of the limit point (or vanishing point) to assess the severity of the bend.
Take care and remember to leave yourself something in reserve in case things are not as they appear.
The Sergeant on the Driving School once told me you should ride every bend as though a fridge has fallen off the back of a lorry and is lying in the road. If you are going so fast that you can't stop without hitting the fridge – you are going too fast. Or if you've got to swerve onto the other side of the road to avoid hitting the fridge and risk hitting what's coming the other way – then you're going too fast. He said, That's not the fridges fault, or the person who dropped the fridge in the first place. It's your fault for going too fast without being able to stop in the distance you can see to be clear. Then he said, now turn your blue lights and your sirens on -what effect will that have on the fridge!
So it could be a fridge, a broken down car, a big pot hole, a flock of sheep, or anything else waiting for us.
We must be able to stop without hitting the fridge.
If in doubt slow down. But we need to slow down when we are upright and balanced before we get to the bend. We don't want to be braking banked over, halfway around the curve.
This only puts strain on our tyres and subjects us to the adverse effects of the cornering forces acting on the bike.
Riding a bike around a bend has nothing to do with the amount of 'bottle' you've got. It is purely and simply down to Physics.
At 1st Class Rider Training we can train you to 'read' a bend and how to get the cornering forces working in your favour rather than fighting against you.
Collisions at Junctions.
These can be down to a driver failing to stop or give way and many fall into the category of crash which is now commonly known as a 'SMIDSY'.
This stands for 'Sorry Mate, I Didn't See You' SMIDSY.
Many of these happen at T junctions but can also happen at Roundabouts.
Some road users are desperate to take any opportunity, or should I say take a chance, to join the flow of traffic and can be fixed on this objective rather than being aware of what is really going on around them.
They may not spot your bike in the traffic. Remember we are easily obscured as we are only one third the width of a car. If a car is waiting to pull out of a side turning into your path, then check your mirrors. The human eye will pick up the biggest moving object in any scene, so check your mirrors to see what is following you.
If you are being followed by a truck or a bus for example the car driver pulling out will focus on the biggest object and we can easily become camouflaged
You may think that you and your bike is easy to see but research has shown that drivers have difficulty in judging the speed of an approaching bike and underestimate the bike's time of arrival.
Remember, no matter who is at fault it is the bike that comes off worse. Practice the concept of 'Avoidablilty' before it happens rather than the more restrictive concept of 'Responsibility' and looking for someone to blame after the event.
It doesn't matter who is responsible for the crash but if you could have avoided it by approaching your riding with a different frame of mind, what a valuable lesson that could be.
Collisions while Overtaking.
I once trained an Airline Pilot, who said that overtaking was a bit like flying. He said, 'Taking off is voluntary….landing is compulsory'.
How right he was. Deciding to commence the overtake is voluntary but identifying a safe landing space before you go is compulsory.
We can't just start an overtake hoping that a space will be there for us to land.
Overtaking not only requires the skill to judge speed and distance, but a good knowledge of our bike's acceleration and performance.
With a bike that you are not used to riding take time to familiarise yourself with it before committing yourself to a high speed overtake.
Remember before you decide to overtake you must first identify the earliest point that you would be able to return to your own side of the road, without cutting up the car you have just overtaken.
Once you've identified your return point, you must then ask yourself, 'Can any vehicle, seen or yet unseen. Beat me to it'?
If the answer is, 'Maybe', then you can't go! Simple really.
Don't forget the Highway Code says
Don't overtake when approaching;
Bends
Junctions ( this applies even when filtering)
Roundabouts
Hillcrests
Or any other place where you might come into conflict with other traffic.
There could be a high speed vehicle approaching, still as yet unseen.
Whilst Filtering past stationary or slow moving traffic do so with care. Closely packed queing cars reduce your visibility and ability to manoeuvre out of trouble.
Many drivers will not know you are there so be aware of sudden lane changes or car doors opening. Many drivers will pull over making a wider gap to allow bikes through but remember that there is a small minority that will do the opposite! So beware.
Loss of control.
What Causes Loss of control or Skidding.
How about any of these.
Ice
Wet Roads
Surface Water
Gravel
Wet Leaves
You might think so, but there is only one thing that causes a loss of control, or skidding, and that is The Rider.
Yes the lowly old rider. It is how we negotiate all these hazards that matters.
If ice caused skidding then everyone would skid on it, but they don't. Only a few do.
If surface water caused skidding then everyone would skid on it, but they don't. Only a few do.
Part of the challenge of riding a bike is the ability to adjust our riding to deal with different road and weather conditions.
Excessive acceleration or braking in a bend can cause a serious loss of control. Harsh or incorrect use of the brakes, even in a straight line can put us into a skid.
Many riders will ride at excessive speed regularly but when you ask them the last time they practiced braking, or an emergency stop and the answer is never, or the last one they did was on their test.
This is an aspect of our riding which requires just as much practice and skill as cornering and overtaking.
With good planning and extending you observations further forward we can plan rather than react, to changes in road and traffic conditions.
Allow yourself time to plan, and anticipate. The two things we run out of when we crash are Time & Space. So take your time and keep your space in front of you.
It will make such a big difference to your enjoyment and riding pleasure without pressure.
Now for the question. What is the most dangerous weather condition for a motorcyclist.
Snow? Ice? Fog? Rain? No none of these.
Dyfed Powis Police produce a leaflet year on year showing a map of their County, which has some of the best biking roads in the UK.
The map shows details of all the bike crashes from the previous year. It states that 95% of biker crashes occur on Dry Roads, on a Dry Sunny Day!
The reason? Well when it's icy, we know it's dodgy and we take more care. When it's raining we slow down. But when it is Sunny, we see no danger. And that is when we are at our most vulnerable.
Every weather condition will bring with it certain challenges but don't be fooled into thinking just because it's dry we will be okay.
Concentrate, keep your wits about you and I'll see you at the next Bikers' Café. From: http://ift.tt/1hd7ojD